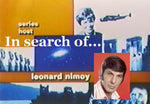 When I get confused, or feel lost in a topic I do what anyone else would do. I ask Leonard Nimoy.
---
With the release of Dr. Melba Ketchum's Sasquatch DNA report members of the Bigfoot community are left wondering what does it mean?  
---
I remember my first time, we all do. There I was laying outside on a just warm enough summer evening.